Home

>>

Advertise
Why Add Your Restaurant?
Local Restaurant Owner? Here are a few reasons you should list your restaurant today:
1) Appear in search results. Having additional web pages on the Internet leads to more exposure. The more Internet real estate you own, the more likely you are to be found and the more patrons you will enjoy. Restuarants of Palm Beach is a search engine friendly website and can be found in search engines like Google.
---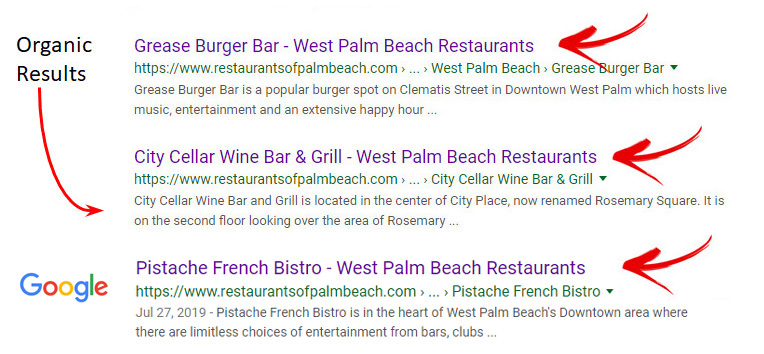 Own more of the internet with web pages designed specifically for your business. Example shows Google search.
---
2) Get new customers. There are over 800 casual and fine dining establishments in Palm Beach County. Get more consumers to find you by standing out in our Palm Beach Restaurants Guide. Our site pops up for local searches such as Palm Beach Restaurants Guide and other local searches when people search in the area.
---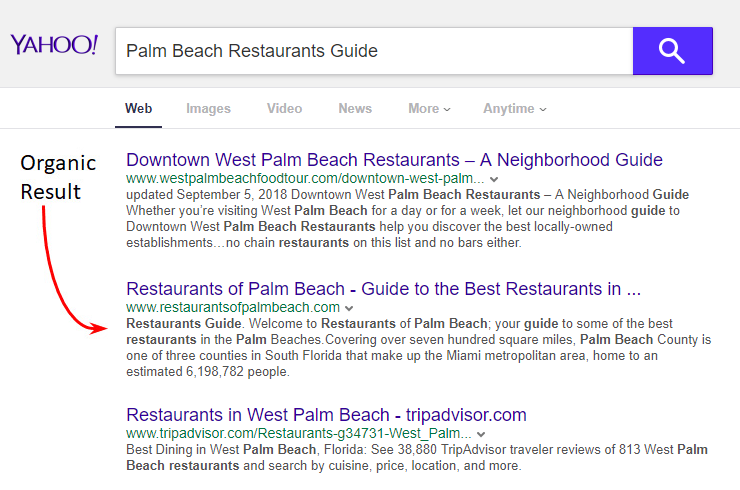 Get found when consumers conduct local seaches for restaurants. Example shows Yahoo search.
---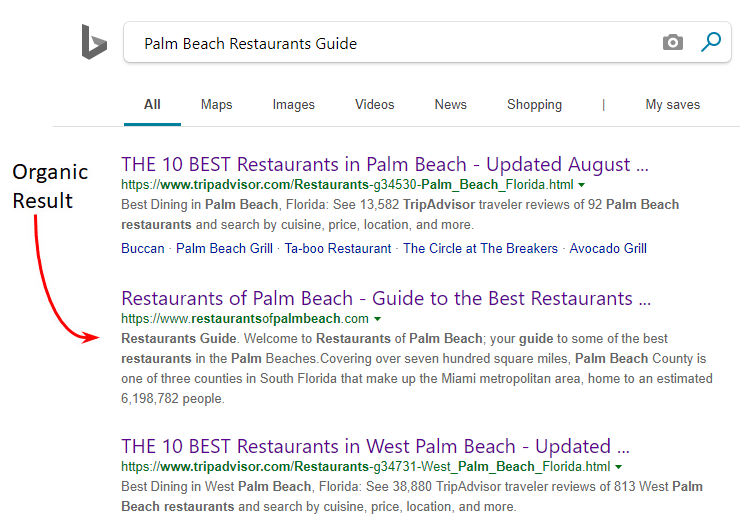 Get found when consumers conduct local seaches for restaurants. Example shows Bing search.
---
3) Build valuable links to your website. Each web link that points to your site is not only a valuable opportunity to gain visitors, but they also help your business rank well in local searches. Especially when those links are related and topic specific. Restuarants of Palm Beach allows you to acquire safe, topic related links to your business website and menu, and the more the better. Each listing includes at least one link to your website and menu.
---

Building topic related links to your site helps improves search engine positioning.
---
4) Increase local citations. Our listings are optimized specifically for local citation building and use rich-snippet data. Each time your address and phone number are seen on the Internet, especially those which utilize rich-snippet data, these count as local citations for your business. Local citations help local sites rank in search engines and popular online apps and maps listings. Having your address and phone number match accross various websites tells search engines your listed address and phone number are highly accurate and help improve your positioning in local mapping services. Matching data improves listing accuracy and your likelyhood of popping up.
---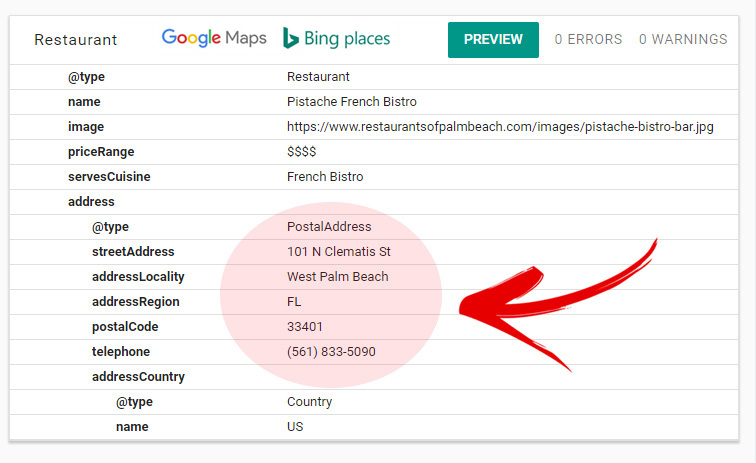 Not all web sites use rich-snippet data due to its complexity in back-end coding.
---
5) Full control of your listing. We use only Zagat reviews (as shown) and do not allow anonymous commenting and posting on your listing. This means your listing only serves YOU and will not become victim of potential competitors or visitors who anonymously post defamatory comments and/or reviews due to anger or negative experiences which are often out of the control of restaurant owners. As such, our site, unlike most others, offers you more control of your listing by not allowing commenting by the public.
---

We do not allow anonymously posted comments which have the ability to interfere with your advertising efforts.
---
6) Introductory offer (limited time). Our service is new and as an introductory offer, restaurant owners whom wish to have their establishment included will pay only a one time setup, design and insertion fee of $595.00 and will be grandfathered-in requiring no renewal fees. This does not include our coming print edition which inclusion will be completely optional. If you have received a lesser priced offer please go directly through your sales person who presented your special offer.

---

---
To add your restaurant click the "Buy Now" button and enter in the name and address of the restaurant upon checkout. Your listing will be built and designed within 24 hours.
Home

>>

Advertise
Disclaimer: Restaurants of Palm Beach highlights restaurants, eateries, happy hour bars, and more for user convenience and based in-part on advertiser relationships. The service is not responsible for experiences at any location featured or recommended. Your experience at any establishment can be positive or negative depending on a variety of factors, all of which are out of the control of Restaurants of Palm Beach. For more information please see our terms of service.